Minerva Hamilton Hoyt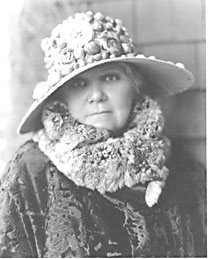 (1866-1945) When it comes to the California desert, one may not find a more important figure than Minerva Hamilton Hoyt. Born to a wealthy family in the deep south, she moved to Pasadena, CA with her husband, Dr. Albert Sherman Hoyt. She became active in upper-class societies supporting the arts and civic endeavors. She enjoyed gardening and became fascinated with the plant life in nearby desert locations, marveling at their ability to survive in an incredibly harsh climate.
Cacti and other succulents were exotic treasures during the early 20th century, and Los Angeles and its suburbs nearby were growing at a feverish pace. It was architecturally fashionable to add desert plants to home gardens, and short jaunts to the desert to unearth treasures were not unheard of. Others saw the plants as a means of income, and extracted cacti by the hundreds or thousands wherever they could find them. Certain locations, such as the infamous Devil's Garden adjacent to Palm Springs, were decimated. Some even found the iconic joshua tree "grotesque" and set them afire, one of those victims being the largest specimen recorded at the time.
This deeply disturbed Hoyt and she set out to protect her beloved plants in their natural setting. She created desert plant exhibits in major cities and founded the Desert Conservation League. Because of her social stature, she had the connections to hobnob with the politically connected. She became acquainted with Frederick Law Olmstead, who was famous for his designs of New York's Central Park and San Francisco's Golden Gate Park, who recognized her appreciation of world-class gardens and appointed her to a commission whose goal was to designate new parks in California. Her recommendations were what are now Death Valley National Park, Anza-Borrego Desert State Park, and Joshua Tree National Park.
Eventually her feelings changed and she felt it more appropriate for protection at the national level. She took her case to the National Park Service and President Hoover for the establishment of a national park in the pristine area between the towns of Palm Springs and Twenty-Nine Palms, and he eventually acquiesced designating Death Valley National Monument in 1933. (Federal lands surrounding and to the east of Borrego Springs were set as a goal for inclusion in a state park in 1933, and the prominent citizens from San Diego who started the process in the 1920s continued to work toward that goal until the remaining lands to the south were included. Anza Borrego State Park was created by the state of California in 1941.)  Roosevelt, the new president in 1934, created New Deal which primarily was about getting people back to work during the Depression, especially on public infrastructure. Hoyt summoned her mighty political and social weight, called on FDR and pushed her idea. To her delight, he was receptive, creating Joshua Tree National Monument in 1936.
Hoyt's power was so influential that it extended internationally. She was able to convince the government of Mexico to protect 10,000 acres for cactus preservation. She was at one point deemed the "Apostle of the Cacti". Minerva Hoyt died in 1945.