Alice Eastwood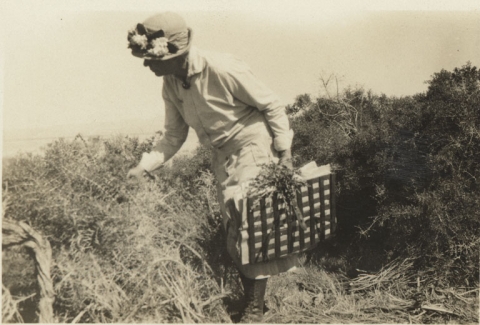 (1859-1953)  Alice Eastwood was born in Canada. Her mother passed away when she was only a child. After her father was unable to take care of the children, she ended up in a convent where a priest introduced her to gardening and she developed a love of plants. She moved to Denver as a teen to live with her father again, and graduated high school as valedictorian. She taught school after graduation, going on field trips to the mountains to collect specimens. It wasn't considered proper for a lady to wander alone on horseback at the time, but she paid no attention to conventions. On more than one occasion she found herself lost in the wilderness, plant press on her back, having to rely on her good senses to find her way home. 
She was well-regarded in the Denver area for her knowledge of botany often serving as guide to Gray's Peak for visiting botanists. In time, modest investments in real estate gave her enough financial stability to concentrate on botany full time. She traveled to California, a place she had dreamed of visiting, starting in San Diego with stops in Monterey and Santa Cruz before finally arriving in San Francisco in the late 1880's. She met the Curator of Botany at the California Academy of Sciences, Katherine Brandegee, who offered her a writing position for their magazine, Zoe. This was an exciting and honorable offer as the Academy contained the largest plant collection in the West. Eastwood accepted the offer in 1891 and moved to San Francisco with the caveat that she could first finish her book, A Popular Flora of Denver, Colorado, which she did in 1893.
She still found time for fieldwork, and visited the Utah desert on a 10-day expedition to collect specimens, the first botanist of record in the area. She traveled throughout California as well, amassing a large collection of plants for her personal collection at the Academy. She became Joint Curator with Brandegee in 1892, and upon Brandegee's retirement in 1894, she was appointed the new Curator of the Gray Herbarium and Head of the Botany Department.  The first order of business was to organize the Academy's collection. She opted to keep the "type specimens" (specimens denoting a new species) separate from the others, which was unconventional at the time. The second was to add to the collection. On her collecting trips, she discovered many plants unknown to science. She traveled to remote locations across California, sleeping in run-down shacks if necessary while finding new plants in the process. Hardships were not a deterrent to her studies.
On April 18, 1906, she was awoken by the 7.8 magnitude earthquake and rushed to the Academy to find out how much damage the building had sustained, which was in shambles. When it was clear that a massive fire was heading toward it, she knew that she had to rescue what she could from the collection and climbed up handrails to the sixth floor, risking her life in the process.  Moving quickly, she managed to obtain her sacred hand lens and come away with the 1,497 type specimens that she had kept together despite advice against it. Though difficult, she and other scientists dragged their heavy treasures away from the fire, begging those with transport capabilities to take them to a safe location. All of her personal collections from the time she was a teen burned in the fire. Ever the optimist, she said in a letter to the journal, Science: "Nobody seemed to be complaining or sorrowful. The sound of trunks being dragged along I can never forget. This seemed the only groan the city made…I did not feel the loss to be mine, but it is a great loss to the scientific world and an irreparable loss to California. My own destroyed work I do not lament, for it was a joy to me while I did it, and I can still have the same joy in starting it again… .".
The Academy was in rebuilding mode after the earthquake so she traveled throughout the United States and Europe taking various posts and positions along the way, collecting and continuing her studies and working with renowned scientists she had met when they visited her at the Academy. A few years later she returned to her position as of Head of the Botany Department and Curator where she remained for the next 40 years, rebuilding the collection from the small but valuable 1,497 specimens to over 340,000 specimens. Although she did not do it alone, it was an astounding accomplishment for a woman of her time when the vast majority of botanists were men. She was greatly admired by everyone, from her local community to international circles. The Golden Gate Park Arboretum had been a favorite project, and she helped build a world class botanical garden in the city of her residence, conducting weekly educational classes for staff and was active in local floral societies.
Alice continued to travel to far-flung locations, from Alaska and northwestern Canada to Baja California. Over her 50-year career with the Academy, she published 310 articles. She was elected a life member of the Academy in 1917 and an Honorary member in 1942. She published Leaflets of Western Botany from 1932-1966 with botanist friend John Thomas Howell. In 1950, Eastwood attended the 7th International Botanical Congress in Sweden as Honorary President, retiring the same year at the age of 90. She died in 1953. The California Academy of Sciences maintains an extensive collection of her specimens, papers and personal items.
Associated Plants