Arthur Carl Victor Schott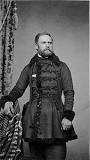 (1814-1875) Arthur Carl Victor Schott was an artist, scientist and engineer.  His formal education was at the Royal Gardens in Stuttgart and the Institute of Agriculture at the University of Hohenheim.
He came to the American in 1850, and soon after became acquainted with John Torrey, another prominent botanist who recognized Schott's artistic talents in depicting plant morphology. Torrey employed him almost immediately to illustrate his report on Stansbury's expedition to the Great Salt Lake In 1851, Further, he recommended Schott for the United States Boundary Survey.
With fellow botanist William H. Emory, he surveyed and collected animal and plant specimens along the Rio Grande in Texas and the Mexican border. The few people having photographic knowledge or equipment at that time would not have used their rare resources on photographing flora. Still, images were useful in science to convey information and since had had the talent, he also served as a topographical artist for the expedition. His 32 beautiful illustrations of the survey areas include more than just geographical features--they depict plant life such as agave, ocotillo and cacti.
After the survey in 1855, he continued illustration and engraving work in Washington, DC for 6 years, handling both for Torrey's reports and those of the entire expedition. He remained in the Washington area for the rest of his life, going on short field trips to collect plants.
Associated Plants