Asa Gray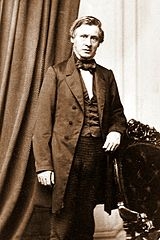 (1810-1888) Asa Gray was born in New York, the first of eight children. He was a great reader and his interest in plants began early. He began a friendship with John Torrey in an attempt to get information about specimens he had collected. Although gained a medical degree, his true interest lay in botany and he quickly gave up his practice. In 1832 he began teaching and left to become an assistant to Torrey in New York City. This exposed him to all manner of famous scientists and botanists who quickly noticed his aptitude and love for plants. He applied for and became the first full-time professor at the newly formed University of Michigan in 1838. He traveled to Europe, spending collecting books and scientific equipment for the university.
On a visit to the infamous Kew Gardens with Joseph Dalton Hooker, Gray met Charles Darwin whose closest friend was Hooker. Their ideas were in synch and the three scientists became good friends, resulting in over 300 letters of correspondence between Gray and Darwin.  He also collected specimens and collaborated with a wide variety of botanists in many countries, returning in 1839. In 1840 he met George Engelmann, who collected extensively in the Desert Southwest and sent Gray specimens for review. Collaborations with Engelmann and Charles Wright were fruitful increasing knowledge among contemporary scientists about the area.
Gray was elected to the American Academy of Arts & Sciences in 1841 and accepted an offer for a position at Harvard teaching botany and as the head of the botanic garden. By 1850, he developed the theory that the defining unit of taxonomy was the species, all the while communicating with Darwin. This concept was critical in Darwin's research which came to fruition in "On the Origin of Species" published in 1859. He aided Darwin with copyright issues in the US and Darwin was so grateful he dedicated a later book to him, "Forms of Flowers".
Gray was elected to the Royal Swedish Academy of Sciences in 1859 and one of the first 50 scientists of the National Academy of Sciences in 1863. He continued on through the difficult years of the Civil War as there was a shortage of both students and specimens from certain areas. He and Torrey had begun A Synoptical Flora of North America and wanted to leave the university to focus full-time on his project. Because of his breadth of knowledge it was extraordinarily difficult for Harvard to replace him, finally concluding in 1873 and allowing him to resign. A Synoptical Flora of North America was published in 1878.
Gray had considerable weight in the world of botanical sciences, with virtually everyone working in the field at the time consulting with him on one topic or another. Gray first explored the West in 1872 and then again in 1877 with Joseph Dalton Hooker, returning to Harvard with over 1,000 specimens. While in Colorado he climbed a 14,000 ft. peak, Gray's peak, later named for him by Charles Christoper Parry. At about the same time, John Gill Lemmon, another botanist was sending a flood of plant vouchers to him. They collaborated extensively and because of their friendship, Gray named the new genus (Plummera) after Lemmon's wife, noted botanist Sara Plummer Lemmon. He made a final trip to Europe in 1887 to visit his old friend Hooker.  He died in 1888 at the age of 78.
Associated Plants