Charles Russell Orcutt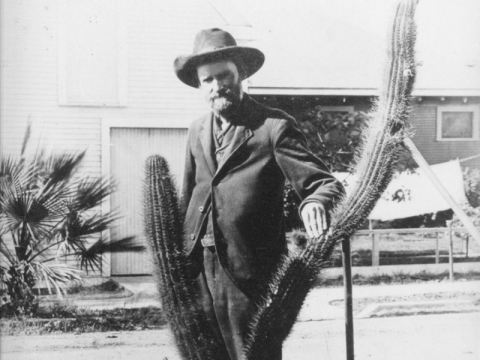 (1864-1929) Charles Russell Orcutt grew up in San Diego, CA. He grew up working with his father, and developed a love of plants. Much of his knowledge was garnered from working in the nursery, but he also educated himself. As a young man, he joined an expedition that his father had planned with Charles Christopher Parry to Baja California in 1882.  Excitement at their findings increased his interest in the field. He obtained hands-on information about how each plant should be extricated or cut from its location and how to press and keep the specimens in good condition. This was a watershed moment for Orcutt that would shape his future.
He ventured out on his own seeking his own botanical fame, traveling to Mexico, Central American and the Caribbean. He was described as boastful His preponderence for studying cacti led to the discovery of new species of desert plants, including cacti. He became "The Cactus Man".
Orcutt was very active in the San Diego Society of Natural History (now called the San Diego Natural History Museum) and was elected a life member in 1885, serving on the Board in 1893, 1902, and 1903. He published and edited the American Botanist (1898-1900), American Plants (1907-1910), and the Western Scientist (1884-1919).
In his later years, he became increasingly interested in the tropical Caribbean, particularly conch species, moving from San Diego to Jamaica, sending specimens to the Smithsonian Institution. He traveled to Haiti to collect specimens in the late 1920s, and died there from an unknown illness.
Associated Plants