Charles Wright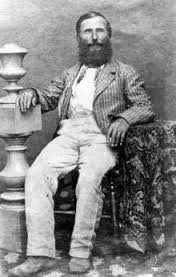 (1811-1885) Charles Wright was a botanist from Connecticut who was educated at Yale in 1835. He taught for a year and then moved to Texas. He began botanizing and having heard about Asa Gray, sent his collections to him at Harvard Colleg in 1844, beginning a decades-long correspondence. Wright continued to collect for several more years, most notably in 1849 sending him what amounted to 1,400 specimens. He also sent cactus specimens to George Engelmann in St. Louis. 
He was tapped to participate in the US Mexican Boundary Survey in 1851, collecting extensively from Texas, Arizona and New Mexico. Wright's findings from the expedition were published by Gray as "Plantae Wrightianae" Parts 1 and 2. He went on to botanize throughout the world in island nations, South Africa, Australia, Japan to name just a few.
Upon Wright's death in 1885, Gray eulogized with the statement that he had done "a great amount of useful and excellent work for botany in the pure and simple love of it."
Associated Plants