Cornelius Herman Muller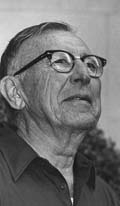 (1909 - 1997) Cornelius Herman Muller was a botanical taxonomist and ecologist who was internationally recognized as an authority on oak species. He also contributed significantly to science through his studies in plant ecology and root development. He worked for the USDA Division of Plant Exploration and Introduction from 1938-1942 giving him the opportunity to name and describe specimens.
Muller went on to University of California, Santa Barbara and helped to establish the botany program there. He founded UCSB's Herbarium and filled it with over 15,000 oak specimens, including 90 new types.
Muller published over 110 articles and books and two monographs: The Central American Species of Quercus and The Oaks of Texas as well as providing treatments for the genus in Arizona Flora, Flora of Panama, Manual of the Vascular Plants of Texas, and the Flora of North America. Among his honors was being named Eminent Ecologist in 1975, the highest honor given by the Ecological Society of America.
Associated Plants