Edmund C. Jaeger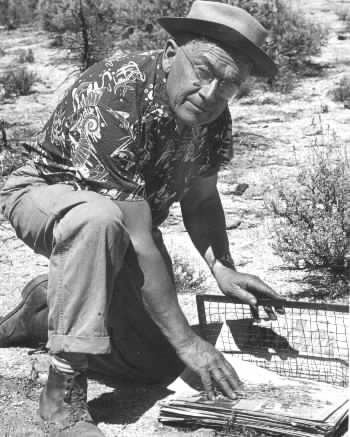 (1887-1983) Edmund Carrol Jaeger was born in Nebraska, the family moved to Riverside, CA after his father's death. He attended Occidental College, graduating with a degree in Biology in 1918. During his college years he had taken a detour to the Palm Springs area, where there were very few non-native people. He built a small cabin and began tutoring children of the clientele of the Desert Inn nearby. There he met painter Carl Eytel, writer J. Smeaton Chase, Jimmy Swinnerton, and author George Wharton James who all became close associates that traveled the desert together, collaborating in each other's work for many years. Since that time they have been dubbed the 'Creative Brotherhood'.
Jaeger finished his studies at Occidental College in 1918 and took a position as Professor of Zoology at Riverside City College in 1921. He visited his cabin in the desert on weekends, often with students in tow. There he taught them hands-on about the animal and plant life of the desert while doing his own research. He taught at the College for 30 years, instilling in his students his love for all desert inhabitants. He continued to lecture about natural history and advocate for the desert even after retiring.
He is most famous for his discovery of a Common Poorwill hibernating in the Chuckwalla Mountains in 1946. He wrote an article on the subject that appeared in National Geographic Magazine in 1951. The Nature Conservancy later established "The Edmund C. Jaeger Nature Sanctuary" at the same location in 1986.
He was a prolific writer on desert subjects over the course of his career, most notably the popular Desert Wild Flowers, a desert-specific plant guide published in 1940, which was the most comprehensive botanical information of the southwest deserts of its time. He also published 14 other books, including  Mountain Trees of Southern California (1919), Denizens of the Desert (1922), A Preliminary report on the Flora of the Charleston Mountains of Nevada (1927), The California Deserts, a Visitor's Handbook (1933), Our Desert Neighbors (1950), A Naturalist's Death Valley (1957), The North American Deserts (1957), Desert Wildlife (1950), Introduction to the Natural History of Southern California (1966).
Jaeger received honorary doctorates from Occidental College and University of California at Riverside. The "Edmund C. Jaeger Desert Institute " at Riverside Community College is named in his honor. Jaeger died in 1983.
Associated Plants