Marcus Eugene Jones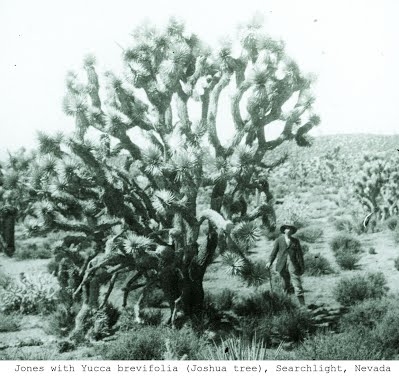 (1852-1934) Marcus Jones was born in Ohio and moved to Iowa with his family as a child. His mother had a great love for plants and got fresh flowers daily for the mantlepiece. The young Jones opted to collect the flowers for her and thus began his interest in botany. He graduated from Grinnel College in1875, spending his free time afield collecting plants from Utah and Colorado, which he forwarded on to Asa Gray at Harvard College or George Engelmann in St. Louis. Finishing his Masters degree in 1879, he married and moved to St. Lake City, UT.
Jones dove into fieldwork, traveling the West and even traveling into northern Baja. Rathern than teach, Jones opted to collect and sell specimens to herbariums. His past as a mining engineer brought in other funds, as well as publishing his own periodical, Contributions to Western Botany One of his specialties was intensive research on the Astragalus genus and his monograph on that subject gave him some level of fame since there are a large number of species in the genus that are difficult to distinguish from one another. His intention was to include this information in a flora of the Great Plateau, but he never completed the project.
Following his wife's death in 1916, he botanized extensively in the Rocky Mountains, and jealously guarded it from others who sought to collect there. Returning to far-flung locations in the west and Mexico, he gathered 50,000 specimens acting as a special agent for the US Department of Agriculture.
In his lifetime, he described 700 taxa of plants. In 1923, he sold his personal archive of 20,000 mounted specimens and many others not mounted for $25,000, a great sum of money at the time. His collection is now part of Rancho Santa Ana Botanic Garden. He moved to southern California around the time of the sale and continued to go out into the field. His archive of plants from Utah is perhaps the largest of any botanist. He died in a car accident in 1934.
Associated Plants