Meriwether Lewis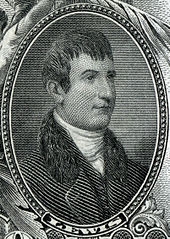 (1774-1809) Meriwether Lewis was born in Virginia and interested in nature at an early age. His mother taught him about the medicinial uses for plants. He participated in the Whiskey Rebellion, afterward joining the Army and became Captain, with William Clark as his commanding officer. He left the Army in 1801. At that time, President Thomas Jefferson appointed him as an aide. Following the Louisiana Purchse in 1803, Jefferson planned an expedition across the West, and recognizing Lewis' fortuitous qualities, chose him as leader of the expedition. Clark was to be his partner. The purpose was to assess the water routes that might be used for future commerce, as well as taking inventory of what resources could be utilized in the future.
The Corps of Discovery mission began in 1803 and took two years to complete-- famously with help from the Shoshone woman, Sacagawea. They took inventory of the plant and animal life, sources of water and mineral sources. They arrived at the Pacific Coast in 1805. 
The plant specimens that were collected on the expedition fell into the hands of Frederick Pursh, who carried them with him when he went to London after a previous business arrangement failed. The American science community was never able to fully document all of the findings from those specimens.
Associated Plants