Vernon Orlando Bailey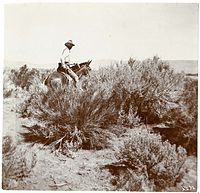 (1864–1942) Vernon Orlando Bailey was born in Michigan and moved with his family to Minnesota on the western frontier. There was no schoolhouse at the time so his education was at home among the untamed animals and plants. He became interested in biology and became an avid young collector. He was advised to contact and send his specimens to C. Hart Merriam. Thus began a correspondence between the two, with Merriam educating him in how to collect and prepare the specimens. He sent many specimens to the government, and then later became employed by the Bureau of Biological Survey under Merriam. He rose from field agent to Chief Field naturalist and worked diligently for 43 years in that position. 
Among others, he conducted extensive floral and faunal surveys of Texas and New Mexico and wrote popular articles for Nature Magazine. His respect for animals led him to create two types of traps that would capture the animals unhurt during surveys as these surveys often involved killing thousands of animals. The American Humane Association recognized and awarded him twice for his achievents in reducing animal cruelty. He continuted to work with the AHA for many years. 
Some of his notable publications include: How to Become a Naturalist, Dwellers in the Desert, Humane Traps, and Animal Friends of the High Sierra.
Associated Plants