Willis Linn Jepson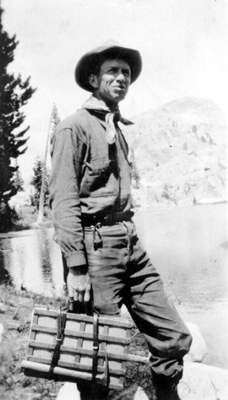 (1867-1946) Willis Linn Jepson was born in California and was interested in the natural world from an early age, encouraged by his mother who brought attention to things such as birdsong and flowing water. He began exploring the rolling hills near his home and making acquaintances with various botanists before attending college. He attended the University of California (Berkeley), graduated in 1889 and became an assistant to E.L. Greene, pioneering taxonomist, in 1890. He started a botanical journal called Erythea with Greene's assistance, and was editor of it from 1893 to 1900.
An instructor at Berkeley from 1895-1899, he also did research at Cornell and Harvard during that time. He received his Ph.D in 1899 and became assistant professor that same year, associate professor in 1911 and full professor in 1918. Devoted as he was, Jepson spent his entire career working at the University of California, becoming Professor Emeritus in 1937.
He developed a love of flora that later manifested as a philosophy of plants as sentient beings. He was an enthusiastic conservationist and helped to form the Sierra Club with John Muir and Warren Olney when he was only 25 yrs. old, and the Save-the-Redwoods League for whom he served as councilor. He founded the California Botanical Society in 1915 and its journal Madroño that he edited until 1933.
His writings over his career dealt with botanical exploration, geographical distribution, taxonomy, and teratology. His explorations covered the entirety of California and especially enjoyed collecting in the remote deserts, mountains, and valleys that were unexplored and thus quite fascinating. Although considered an "orthodox" taxonomist, he embraced evolutionary ideas and experimental approaches of biosystematics.
He published 11 books, including A Flora of California (1909), The Trees of California (1909) and A Manual of the Flowering Plants of California (1925), which preceded The Jepson Manual (1993) and which has since become the "bible" of California and western botany due to his masterful research and techniques. It was published by the University and Jepson Herbaria at the University of California, Berkeley, and now publishes the Jepson eFlora, the foremost authority on native and naturalized vascular plants of California.
Willis Linn Jepson died in Berkeley, CA in 1946, one year after suffering a debilitating heart attack. His specimens, extensive archives and fieldbooks are housed in the University and Jepson Herbaria libraries and archives.
Memberships and honors:
Faculty Research Lectureship in 1934
LL.D. from the University of California in 1941
President of the California Botanical Society, 1913–15 and 1918–29
Fellow of the California Academy of Sciences, American Academy of Arts and Science (Boston), Royal Society of Arts (London), and American Geographical Society
Delegate to the International Agricultural Congress at Liége (1906) and the International Botanical Congresses at Cambridge (1930) and Amsterdam (1935)
Foreign member of the Société Linnéenne de Lyon and the National Botanical Society of Czechoslovakia
Councilor of the Rancho Santa Ana Botanical Garden
Life member of the American Genetic Association
Member of the American Society of Plant Taxonomists
Botanical Society of America, Society of Foresters
Washington Academy of Sciences
Western Society of Naturalists
Places named for Willis Linn Jepson:
Willis Jepson Middle School in Vacaville, CA (his hometown)
Jepson Trail at Tomales Bay State Park
Willis Linn Jepson Memorial Grove of Bishop Pines
Jepson Preserve on the Klamath River in northern California
Jepson Prairie at Suisun Marsh
Mt. Jepson, King's Canyon National Park
Associated Plants