Wildflower Travelogue
It starts by noticing a pretty flower, perhaps on a roadside. You stop to take a photo of it. You see more, and stop again and again. You venture out far away from the pavement to find more beautiful flowers. You begin to wonder "is that the same flower I photographed a few days ago?" You study the details of the leaf structure in your photos, the arrangement of its reproductive parts and through this research find that it wasn't the same. Now, the bug has bitten. You must travel and find new plants--different ones, rare ones...
Submitted by

dustymaiden

on Tue, 03/07/2017 - 17:21
Mojave Trails National Monument encompasses 1.6 million acres of land in the Mojave Desert. There are countless dirt roads running through it that I had not explored, and the one leading to our campsite on the north side of the Sheephole Mountains was one of them. The vegetation was typical Creosote Bush scrub, lovely in their relative uniformity and providing a swath of olive green across the landscape. A dirt road ran off to the north in a completely straight line, perhaps 20 miles or more. We took a walk through the wash, admiring the Desert Lavender in bloom, Clavate Fruited Primrose flowers shone in the sun and endless specimens of Common Phacelia, hiding amongst shrubs, were days away from blooming.
We found that one portion of the wash had been a favorite haunt for target shooters. Plastic shotgun shells littered the sand. Other ammunition shells in brass and lead were everywhere. Splintered signs, an old sofa, beer cans, and old metal propane cans,rusty and full of holes were strewn about. Clearly, the Bureau of Land Management, who is overseeing these lands, has work to do in restoring this area. Citizen groups could be helpful. I resolved to try to get some help from the local communities to get rid of the trash. We spent about 15 minutes picking up shells next to our campsite, and we ended up with a huge pile to haul out. Despite all of this, it was a really beautiful place. The views across the immense Cadiz Valley are spectacular, and there's nothing but nothing out there save for Route 66 and the tiny hamlet of Amboy. Roy's Motel & Cafe has been a well-known landmark in Amboy since the heydey of the Mother Road. It was purchased several years ago and the owners are apparently attempting to get the diner back into service. They do have gas but at a premium price. Still, this area is remote so if you need it, its a savior. The point is, if you desire solitude, you will definitely find it at this portion of Mojave Trails--or for that matter, any portion of Mojave Trails. Some might say desolate, but that's a good thing. Tuning out the various electronics of modern society is good for the soul.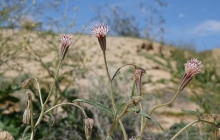 Back at the site, we loaded up the trash we collected and hit the road. I was excited that we were finally getting to lower elevations. It had been quite chilly the night before and the warm sun was comforting, and more plants would be in flower at lower elevations. After a quick stop in 29 Palms for gas, we sought out some decent food. The two best breakfast joints were closed so we went to a greasy spoon. Catman found a hair and a the bristle from a brush in his food. Ugh, never again. We drove east on Highway 62, stopping in various places to take short hikes in the Sheephole Valley Wilderness (now part of Mojave Trails National Monument) or in the northeastern edge of Joshua Tree National Park. Desert Needle was prevalent and in bloom, along with the ubiquitous Clavate Fruited Primrose and various Cryptantha species.
Before leaving home I plotted 300 GPS locations of rare plants in the southern portions of the California desert. Some of those occurred along this particular highway. We stopped near one of the points and headed out into the desert to see if we could find the plant, Abrahams Spurge. It was somewhat confusing using the application on my phone. I would walk toward the point, suddenly realize I passed it and turn back and pass it again. It took a bit to get the hang of it, and there's no message that informs you "here it is!" GPS has a margin of error of about 10 ft. so I had to just start looking. Spurges form mats which are large enough to be easily visible, but you need to be on hands and knees with a hand lens to see the details that are not visible from a distance. I'm not sure if I found it—I'm still in the process of learning and need to compare photos to the Jepson Manual key. Additionally, spurges are difficult to identify and many of them have very similar structures. Another relatively rare plant, Winged Cryptantha, was on my map as well. Cryptantha species are tiny plants and notoriously difficult to identify, but I was able to ID this one. Using this phone application was fun and I was excited to find more rare plants.
At Highway 177 we turned south through the Chuckwalla Valley toward Interstate 10, following the jagged Coxcomb Mountains along the way. No visible flowers, but beautiful just the same. We reached our next stop, the Desert Lily Preserve and hopped out for a hike. The substrate inside the unattended gate was desert pavement, which consists of small rocks packed tightly together and solidified into a very hard surface. I've always known Desert Lilies to grow in sandy locations, and sure enough we didn't see any sign of them at all. Pretty Desert Star were scattered around the bases of Ironwood trees. I was perplexed. Why would this area be saved for Desert Lilies if the soil wasn't conducive to them growing? Oh well. We got back on the road and within a mile I saw Lilies off to the left. We stopped on the side of the road and I discovered that this spot was still part of the Lily Preserve, which was larger than I originally thought it was. Most individuals were not yet blooming but were very close, their wavy leaves sprawled out and clusters of buds at the top. If only I had been there a week later!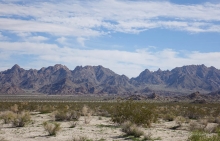 Our next stop was Corn Springs to the east, but we needed to refuel first at Chiriaco Summit to the west. This portion of Interstate 10 has a large number of Ironwood trees which are small as far as trees go but shelter tender seedling plants and are important for birds and animals. I eyed them as we hurried by and pictured myself standing underneath the branches, touching the dense wood and looking for critters running from tree to tree. It's kind of wonderful to think about these creatures who live their lives surviving out here without the comforts that humans now require. Their job is to get food and stay alive while doing it.
We arrived at the turnoff and got onto the access road. At that very moment I saw a military jet fly low into a canyon and hoped that it wasn't the one with our campground. (It was.)  The access road to Corn Springs is about 10 miles long. We crossed the hardpan and sunk into a deep wash emanating from the Chuckwalla Mountains. It was getting late and, once again, we only had about 30-45 minutes before the sun dipped behind the mountains. The campground was a ghost town--not a soul to be seen anywhere. The native California Fan Palms at the camp were not in good shape. Fires had destroyed their leafy skirts and most of the trees were without their characteristic fans, appearing as tall stumps. But vegetation was thick with unusual shrubs, including Spiny Abrojo, which is listed as rare. I took photos of unknown plants as we hiked and discovered later that one was Cove's Cassia, another rare plant.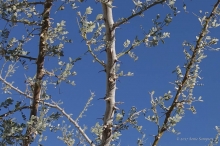 We settled in and built a campfire, the first of our journey where we were certain it was legal to do so. It was cold. The canyon walls turned a deeper shade of orange and eventually vanished in the darkness. We cooked some food over the fire and toasted with champagne. "To the desert!!" Clink.
Pages