Escape from Snow to Sand
Submitted by

dustymaiden

on Mon, 02/27/2017 - 13:27
Monday, February 21st was a crazy weather day in northern California. We traveled to Lake Tahoe for a night of fun on the 20th to a mix of rain and snow. By the morning of the 21st, there was six inches of snow on the ground and it was still falling. There were avalanche warnings in the area nearby and we wanted out. The climb over Brockway Summit was somewhat treacherous. Our intent for this venture was to take Interstate 80 west to Sacramento and then Interstate 5 south through the Central Valley and on down into the desert, but landslides, floods, high wind and avalanche warnings were ongoing problems that day. I often travel Hwy. 395 to and from the desert when headed southward from the Tahoe Basin but it surely wasn't any better as it passes through high elevations that were also in the path of the storm. We opted to go eastward on I-80 where there was no traffic and rain only and travel south through Nevada, a much better choice as it turned out.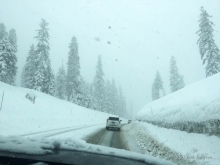 At Fernley we departed the interstate bound for Highway 95 south. I had never been on this two-lane highway before. It had dry, sparsely populated roads, perfect for jangled nerves. Looking to the west, we saw many snow-covered peaks mostly obscured by clouds. Beautiful, but it would have been time consuming at the very least if not downright dangerous to have gone in that direction.
The Great Basin Desert had seen its share of precipitation as well and green seedlings were everywhere. We passed many little towns with wind-blown shacks and a few beckoning slot machines. "Sorry riches, you'll have to wait. I've got to see about some desert wildflowers. I'm going pert' near Mexico and my mule don't go too fast, so I'll keep on."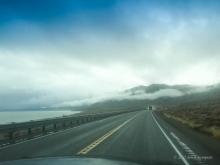 The Catman took over when unusually strong winds started to buffet our high-profile vehicle at Hawthorne, I just wasn't having any of it. We arrived in Tonopah as the sun was sinking behind the hills overlooking the town. Its mining history was apparent from the rusty machinery littering the outskirts, and the faded façades of late 19th century buildings crowded along the main street. We stopped at a local pizza parlor to pick up food we ordered as we approached the town--anything to save time. After a few bites, we got going again, descending a long slope as we drove south. It was just before twilight and we began to see familiar shapes. "Wait...those look like Joshua trees..." Indeed they were and their silhouettes indicated it wasn't just a few, but many scattered over both mesas and lowlands for a few miles. It felt as if I was suddenly in the Mojave, and though Joshua trees are one of the primary indicators of that desert, we were still many miles away.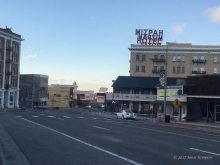 It was dark but not late so we kept rolling along the unfamiliar roads, eventually reaching Beatty, NV which is not far from the border of California and Death Valley National Park. I have stayed in the town given its proximity to historic Rhyolite, NV and stunningly beautiful Titus Canyon leading directly into the valley via a winding, mountainous dirt road. Nope, not stopping yet. Farther down the road we passed the Amargosa Opera House, and I thought of artist and ballet dancer Marta Becket who died only a few weeks before. It was sad that she'd no longer be dancing to the audience she painted on the interior walls many years ago when visitors to the area were few and far between.
Finally, we crossed back into California on the Lost Highway, State Route 127 and debated where to stop for the night. Perhaps somewhere in Mojave National Preserve... We passed through Shoshone, we decended Ibex Pass to the flatlands near Harry Wade Rd. Suddenly something in the headlights caught the Catman's eye... Flowers!! Bunches of them--all along the road. We quickly found a camp spot and jumped out with flashlights in hand to have a quick look at what flowers were blooming. We had traveled 450 miles and still weren't anywhere near our goal of the Mexican borderlands, so we called it a night.