Matter Out of Place
Submitted by

dustymaiden

on Mon, 03/06/2017 - 14:12
Morning at the edge of Highway 127 couldn't come quickly enough for me. My eyes flew open at first light and I got myself outside to get a daylight view of the flowers. The previous evening's LED flashlight revealed the species but none of the delicacy of colors or textures. I scouted around while the Catman continued to rest. We were parked at the Dumont Dunes OHV area as it was easier than venturing down Harry Wade Rd. in the dark. Harry Wade has few pullout areas for people to camp, and if we had ventured out looking for a spot we could have encountered deep sand or washouts from the storm a few days before. We dislike the noise at OHV areas but at least in this particular case, there was only one vehicle camped in the entire area as far as we could see, and it was blissfully quiet except for the occasional car or truck passing by on the highway.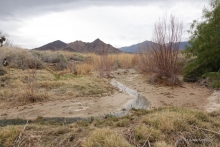 And then there's the trash. Human habitation at campsites or anywhere along roads often means there will be some sort of garbage lying around. Broken beer bottles, beer caps, plastic bags or wrappings, straws, napkins, cigarette buts, plastic toys are merely a few examples.  As I walked around, I shook my head. Why can't we humans pick up after ourselves? Our view of the natural world is that it is ours for the taking and our needs and desires are paramount. It's a pity that there is not a way to better police the disposition of unwanted items. Conversely, the desert can be an extremely windy place and it is difficult to keep track of your things when winds are gusting to 45 or 55 mph. Accidents happen and people lose stuff to the wind. I get it, it's happened to me too. Perhaps a little education and suggestions are in order. "If you're going to be camping out in the desert, strap everything down that can blow away." Because it will happen. I supposed the pretty flowers didn't mind the trash too much. Maybe they didn't even notice!
By chance we had camped next to a Desert Sunflower in full bloom--didn't see it the evening before but there it was about 10 feet away and the only one in sight. Good karma. I hadn't noticed the blooming Sand Verbena either as we were driving around to find our camp spot, but plants were scattered all about the area. We did choose to stay in an area of the OHV area without dunes in hopes that we would be avoided. It was a moot point because I didn't hear anyone riding buggies anywhere nearby. I did hear bombs as I wandered with my eyes glued to the ground. I wasn't aware that there was a bombing range in this area. Turns out it was likely coming from Ft. Irwin on the other side of the Owlshead Mountains. Hmmm. I crossed the highway and found Peirson's Browneyes, an unidentified Cryptantha, The usual suspects.
Eventually we departed and went to nearby Salt Creek Area of Environmental Concern. In the parking lot I found the tiny Ives Phacelia. We took a trail that brings you around the side of a small hill to the marsh. We peered over the edge to see if there was water. There was, and it was muddy. A large bunch of trees were growing from the soggy basin and I hoped it wasn't the invasive Tamarisk, but of course it was. Animal tracks crossed the muck. One was definitely a large cat--most likely a mountain lion as the prints were at least 3 inches wide. A coyote had come through and another animal of the skunk or racoon variety.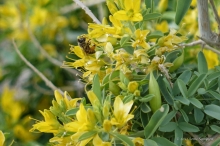 We crossed the marsh on a few thin boards that had been placed there but ended up with muddy boots anyway. Burned Tamarisk stumps sat at one end of an island in the marsh and a marker explained that some of the trees were left for owls that frequented the area. I was glad to see that someone was at least addressing the issue, but felt conflicted about it. Yes, the predators and prey need cover but Tamarisk species are water hogs. There are ruins of a blacksmith cabin on site and surely they were planted by miners or other desert explorers nearly 100 years ago. Non-native cattail were in abundance as well. I'm not sure if it's impossible to eradicate it or there are not enough staff to do it. It's a question that begs an answer. Human invasion in natural habitats can be incredibly destructive, from trash to alien plants. Hopefully one day we'll learn to protect other living things, if not for any other reason than our own survival.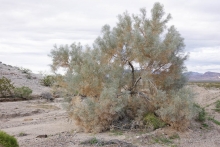 We headed south but decided to stop near the Hollow Hills Wilderness on the way. There were large powerlines and no flowers so we didn't stay long. After refueling in Baker we got on Kelbaker Rd. that traverses the Mojave National Preserve. Still trying to get to the extreme southern portion of the state, we avoided stopping until we reached the Kelso Dunes turnoff. I had hopes that some blooms would be found. The basin around Kelso Depot was very green, but upslope at the dunes it wasn't. At the Granite Mountains we pullled off to have a look around. The landscape is extremely lush, if not flowering, with large specimens of Buckhorn Cholla, Pencil Cholla and a wide array of shrubs. One plant was blooming--Turpentine Broom. Its deep indigo-colored flowers are inconspicuous and I was glad we stopped. We debated taking a dirt road through Cadiz Valley south to Highway 62, but we hadn't checked with rangers and we didn't know the conditions after the storm. A stop at a big wash draining a portion of the Bristol Mountains had a few flowering plants--Bladderpod and Button Brittlebush. There were plenty of seedlings but no perennial herbs in bloom.
It was about 90 minutes until the sun would set and we needed to find a camping spot. After passing through Amboy we turned on Amboy Rd. toward 29 Palms and hit the gas. I planned to stop at Sheephole Pass for the golden hour. Maybe I would be lucky enough to find flowers and a place to camp. When we arrived we saw the backside of a sign. We came around front where there was a dirt road. The brand-new sign read "Mojave Trails National Monument." I was thrilled. The designation of three new national monuments in 2016 meant protection for the desert I love. It was pretty road, and almost immediately an Arizona Lupine waved hello in the wind. We found a place to camp quickly, although it was very heavily littered with ammunition shells of every size. We heard (and felt) bombs again, this time from the Marine base nearby. Still, the view over the gently sloping valley was gorgeous in the setting sun. Headlights from cars traveling along Route 66 in the distance moved slowly across the landscape. The soft pink colors faded into the night.