Wildflower Travelogue
It starts by noticing a pretty flower, perhaps on a roadside. You stop to take a photo of it. You see more, and stop again and again. You venture out far away from the pavement to find more beautiful flowers. You begin to wonder "is that the same flower I photographed a few days ago?" You study the details of the leaf structure in your photos, the arrangement of its reproductive parts and through this research find that it wasn't the same. Now, the bug has bitten. You must travel and find new plants--different ones, rare ones...
Submitted by

dustymaiden

on Thu, 02/07/2013 - 00:00
The planets aligned recently and me and the Catman are out for a late-winter desert adventure. There has been more precipitation this winter than last year, so I am hopeful that I will see some flowers, or at least some sprouts! Last year was pretty much a complete bust as far as blooms are concerned.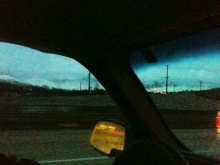 We traveled down the beautiful California coast, camping in various places. It has been cold and we've had some rain and finally arrived in Palm Springs just after sunset. The desert warmth I have been anticipating will have to wait a few days...it is COLD COLD COLD--about 41 degrees, which is the coldest temperature I have experienced here in the Coachella Valley.
Approaching the San Gorgonio Pass, the snow level was very low--the hills in Yucaipa glowed white in the darkening sky. But, the desert needs the moisture and I am very happy to see precipitation in any form! Only sprinkles are lingering in Palm Springs. The ground is damp, and that is something. We shall see what transpires tomorrow.
Pages