Wildflower Travelogue
It starts by noticing a pretty flower, perhaps on a roadside. You stop to take a photo of it. You see more, and stop again and again. You venture out far away from the pavement to find more beautiful flowers. You begin to wonder "is that the same flower I photographed a few days ago?" You study the details of the leaf structure in your photos, the arrangement of its reproductive parts and through this research find that it wasn't the same. Now, the bug has bitten. You must travel and find new plants--different ones, rare ones...
Submitted by

dustymaiden

on Sun, 03/31/2013 - 00:00
It was another late arrival, this time in Barstow. Covering all of these miles is tiring, but for me, the rewards are worth it. We were going to take our time today since we were going to drive home in the late afternoon or early evening.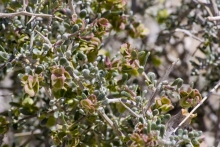 ​I decided to make the most of the day by driving back to Owl Canyon where we went in February. There had been some green sprouting up out of the ground but no real blooming yet. I hoped that something had sprung up.
We took the Rainbow Basin drive first. It was dry as a bone. A busload of geology students had spread out over the hillsides.  Apparently it is a well-regarded place notable for the Barstow Syncline and for field mapping. Very interesting. We parked and I scouted a few of the deeper washes and found some blooming Desert Alyssum and healthy Hopsage, but not much else. However, my friends loved the rock formations, so it was a worthwhile venture.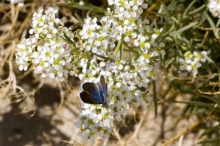 ​At Owl Canyon, it wasn't much different, naturally. We crossed the main wash that comes out of the campground area and I made note to explore as it on the way out since it was the deepest ditch around, and therefore most likely to have moisture and flowers. I parked at the top of the campground near the trailhead and jumped out to take a hike back into the canyon.
​The dirt and rock hills are 30-40 feet high which can protect plants from the hot sun and intense winds.  Searching these areas often reveals something green.  After a few minutes, success! There was some scattered Rock Gilia, Checker Fiddleneck, Forget-Me-Not, Yellow Pepper-Grass and a few more that I couldn't identify. Here at least there were a couple of species represented. We walked back into the canyon but had no more luck.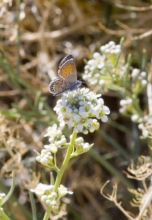 ​I showed my friends the dinosaur tracks that the Catman found on the last visit. Though we're not educated in such things, it appeared that there were tracks of several species of animals who left their imprints there for all of us to discover thousands of years later. The mind drifts off and you try to imagine unknown creatures tramping across a temperate wetland where you are standing. Suddenly, you come back to reality to find yourself in a parched desert checking the time on your satellite-driven cellphone while airplanes race overhead. Time warps are weird.
We roamed around for about an hour and then it was time to hit the highway for the long drive to Northern California. As always, I found myself wishing the desert was not so far away from home. The distance precludes me from visiting more frequently.
I stopped at the deep ditch on the way out of the campground. The only flower I found was Desert Alyssum--a whole wash full of it. But I noticed that there were Western Pygmy Blue butterflies visiting many of those flowers--obviously a food source for them. I snapped a whole slew of photos. They are the smallest butterfly in North America so I used my telephoto to get as close as possible. I had never seen so many Blues in one place! Wonderful!
It was just like the desert to send me home on a high note.
Pages