Wildflower Travelogue
It starts by noticing a pretty flower, perhaps on a roadside. You stop to take a photo of it. You see more, and stop again and again. You venture out far away from the pavement to find more beautiful flowers. You begin to wonder "is that the same flower I photographed a few days ago?" You study the details of the leaf structure in your photos, the arrangement of its reproductive parts and through this research find that it wasn't the same. Now, the bug has bitten. You must travel and find new plants--different ones, rare ones...
Submitted by

dustymaiden

on Fri, 03/29/2013 - 18:27
We awoke on Tuesday somewhat late since we'd arrived in Beatty around midnight. Beatty was settled about 1905 and though it caters mostly to tourists, it has a real western vibe. It had been a long drive and we were stir crazy. We dragged a few things to our room, and paid a visit to the casino up the road.  It was good to stretch our legs and wind down. A cocktail and a few slots later, we decided to get some sleep.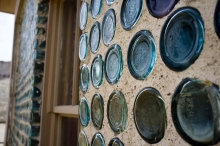 Our first stop the next day was the ghost town of Rhyolite. It was a mining town that sprung up after gold was discovered in 1904 and within three years produced over $1,000,000. Most of the people left by 1914 and the last resident died in 1924, and the area became popular as a film set beginning in 1925. Quite a lot of ruins remain, in addition to the old Bottle House which has been preserved. It is a wonderful opportunity for photography with the surrounding desert as a perfect backdrop for the decaying buildings.
We explored for an hour or so, and I got impatient to get moving again. We were only going to be in Death Valley for the day, and drive to Barstow that night, so I had very little time to find my flower. Now I was determined to find it. I started calculating time in my head, knowing that we had a journey ahead of us that would take us a few hours before we would reach the valley. One of my two friends was advised to "not miss the drive through Titus Canyon" when he heard that we were going to Death Valley. She mentioned it and I agreed it would be fun to go since I hadn't been there in many years.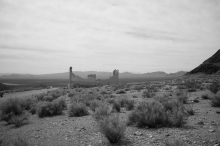 Titus Canyon is accessed via a long dirt road across a valley, through the mountains and eventually through the entire canyon. Remembering my goal, I didn't think the Five-Spot lived there, but I didn't know for sure. Besides, I thought, what other blooms might be lurking about deep in the canyon?
We reached the turnoff a few miles past Rhyolite, and I hauled ass across the flat part of the valley toward the Grapevine Mountains, trying to make good time. Much of the time on desert dirt roads you have to go really slow, even crawl, especially when going over bigger rocks, around tight curves, through deep ditches, etc. Although I traveled this road with the Catman many years before, I didn't remember how far it was exactly, nor did I have any literature that told me, but I guessed it was at least 15-20 miles. I calculated 15 mph as an average speed, taking into account those rough patches where you are required to slow to 5 mph or stop completely to pull over for a few minutes to look at something. I estimated it would take us about two hours. It was already after 12:00.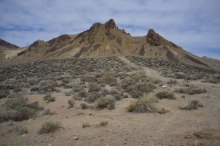 As we began winding into the Grapevine Mountains, we saw red. I stopped in the middle of the road. Just a small patch of Desert Paintbrush. We crested a low hill and could see a relatively steep dropoff through a narrow pass on one side. I have a serious fear of cliffs, though it wasn't too bad--yet. We arrived at Red Pass, a stunning but (for me at least) frightening series of switchback turns with rocks and ditches or potholes at the tightest part of the turn, and dropoffs hundreds of feet below the narrow road. The National Park Service grades the road and rates it as 2WD high clearance, but I was grateful for my 4WD and kept the car in low gear, white-knuckled all the way. The scenery on steep mountain and canyon roads is often absolutely stunning, as it was in this case, and my anxiety really irritated me. I wanted to be able to enjoy it. Like so much of the park, there were hues of many colors, and so much variance in the terrain, twisting and folding of the layers of rock, ridges and valleys--a holy grail for geologists. Theres a lot going on there. I thought "Maybe I'll hike this road next time." Maybe. My friends reassured me that I was doing fine. I didn't feel fine.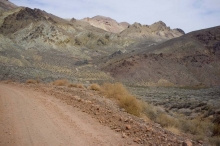 Eventually, we made it to Leadfield, a small ghost town that lies just above the lower canyon. We stopped for a half-hour to look around. The town came about in the 1920s because of fraudulent advertising of easy access to its riches, neither of which were true. Only a few buildings remain, but there was space to pull the car off the road which can be a hard thing to find.
We entered the low part of the canyon, with its steep walls above us, rather than below. The beautiful layers continue and in many areas the walls have hanging gardens of plants. We stopped next at an obvious spring where there were also petroglyphs on a rock facing the road. Small pools of water appeared with marsh grasses and a tiny stream of water lined the road for a short distance. Farther along we discovered many instances of that rare Death Valley Sage, but not in full bloom as I had seen it in Hole in the Wall. We started seeing hikers and knew we were almost at the mouth of the canyon. Finally!
We left the cool, dark canyon and drove into the blazing sun, a wide-open view of the valley and sky in front of us. Beautiful! I drove straight to Mesquite Flat, the sand dunes near Stovepipe Wells. I hoped there might be some Sand Verbena, Dune Primrose or even some Desert Five-Spot, but there were no flowers. It was also mobbed with people and tour buses spewing diesel exhaust. Yuck, way too much modern civilization  after our drive through the solitude of the empty canyon.
Back in the driver seat, I headed for Furnace Creek and the Visitor's Center, 24 miles away, hoping that the rangers there would have some information on where I could find some flowers blooming. I ran in, headed for the information desk and asked the question. It was met with a long pause. After some time, one ranger said she had heard something about flowers in a canyon in a far flung location to the west, and I knew we probably wouldn't even make it there before dark. It was 4:00, and the sun would dip behind the mountains within an hour, maybe two hours maximum.
My chances to see the Five-Spot dimmed and I was feeling down. Where was I going to go to find it? I remembered a geologist friend had seen it in southern Death Valley which led me to believe it preferred the sandy flat areas, but to get to there would take time. Death Valley is enormous and distances are long. I probably wouldn't make it there before the sun set either. I got back in the car and said "Well, if I don't see the flower today, I guess it was meant to be. I'll have to come back again next year."
The closest place to the Visitor's Center I could think to go was up Highway 190 along Furnace Creek. Instead of stopping along the road, I decided to go back to Hole-in-the-Wall where the Catman and I visited the month prior. The road is very rocky so I assumed not ideal for the Five-Spot. But I'm always happy to see any flower that I can find.
We pulled onto the gravelly road, drove about a quarter-mile and I stopped. I saw patches of flowers here and there throughout the wash--hooray! As I was getting out, one of my friends asked me "How big is this flower?" I said, "I think it's fairly small." I looked to the left and saw a pink globe about 15 feet away. I literally screamed out loud. It could be only one thing--the Desert Five-Spot! Eureka! I ran across the rocks and stooped down, joyous tears running down my face. It had been a somewhat stressful day with the harrowing drive down Titus Canyon, the attempts to keep moving but still enjoy the ride. The happiness and relief came pouring out.  
I sat down on the gravel and spent some time admiring the luminous pink petals and deep red spots you can only see if you peer in from above. It had a very sweet scent. In addition, inside every flower were tiny little red spider mites, artistically color-coordinated in a way that only nature can manufacture. I thought "this might be the most beautiful desert flower I have ever seen!" I grabbed my camera.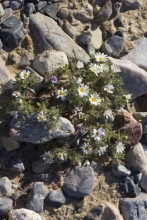 The late afternoon light was absolutely perfect! I couldn't believe my luck. Did I manifest this? In the beginning, it was just a whim to find the Five-Spot on this trip, becoming more serious and urgent the closer I got to Death Valley and the desert floor. But it actually happened, against the odds of time... Not only that, but this was the same location where I found the relatively rare Death Valley Sage in February, wherein we drove up, parked, got out of the car and there it was. Another instance of serendipity. Or maybe it was my destiny--being there at the right place, right time. Life is amazing.
There were many other flowers so I dragged myself away from the pink blooms. I had to see what else was there. Golden Evening Primrose and Lesser Mohavea were blooming more profusely than in February--lots of them everywhere. I also found Desert Trumpet, Broad-Leaved Gilia, Parish's Phacelia, Gravel Ghost, Desert Sunflower, Small Desert Star, Bigelow's Monkeyflower, Velvet Rosette, Desert Plantain and a few I couldn't identify. I excitedly ran from place to place, snapping photos as I went. What an amazing variety of flowers! I felt I had really hit the jackpot! I went back to the Five-Spot, took one last deep inhale of its perfume and kissed it on the head. I couldn't help myself.
We turned around and headed for the pavement. What's that on the mud hillside? A chuckwalla! Double bonus!
My friends were hungry and fading and so was I. We needed to get to the village store for some reinforcement. And I wanted to take them to my favorite place in the valley for sunset. It was still hot. We passed by Furnace Creek on the way back down Hwy. 190. Though it was beautiful, we didn't stop but instead just headed straight for the store. Once we had provisions we jumped back in the car and headed south on Badwater Rd. I turned off at West Side Rd., drove about a mile, and parked in a pull-out. We only had about 30 minutes until the sun would sink behind the Panamint Mountains and Telescope Peak.
The area is not designated as, but is similar to the Devil's Golf Course, an area of Death Valley characterized by salt deposits percolating up through the soil creating extremely uneven ground surface. Whoever created the gravelly West Side Road must have had a massive machine to make it even remotely smooth. The salt deposits are extremely hard. If you kick them you hurt your foot. I've tried. I thought I would crush the salt down like snow, but it doesn't budge at all. I can't even imagine coming through it with horses and wagons as the 49ers did.
We ate some cheese and crackers and had some refreshments. As the sun was setting we took photos of the ever-changing colors and shapes on the mountains. Not far away, a lone photographer was set up doing the same thing. I kind of regretted that we were in his photos, and he in ours but his vehicle provided a perspective for the grand scale of our surroundings.
I love being in the middle of the big valley. You have an unequaled view of the mountains, ridges, layers, and colors in every direction. The pavement is only a mile away but the cars going by appear to be very tiny. I always breathe better out there, a big inhale and exhale that, like yoga or meditation, relaxes me completely. It is a rare thing in our modern world to be in such a wide open space with so few people. Death Valley is one of the most desolate places on earth.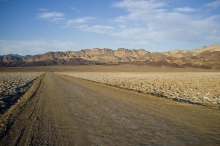 It cooled down to a perfect temperature and the wind was utterly still. We took bets guessing behind which mountain ridge the moon would arise. Full moons in the desert are always a special joy because once it is up high enough, it illuminates the fair-colored ground surface (in this case white from the salt) so much that you really don't need a flashlight.
We took more photos, turning in circles to soak in the view from every angle. I sensed that they didn't want to leave too quickly and I didn't either. We stayed until 8:30, far beyond sunset, even though we still had a four-hour drive to reach Barstow. Back on Badwater Road, we headed south toward Shoshone, our fueling point. As we reached Ashford Mills I realized the wind was whipping all around us, pushing the car to and fro as we turned uphill toward Jubilee Pass. Ever a source of surprises, I silently gave thanks to Death Valley for another spectacular day.
Pages