Wildflower Travelogue
It starts by noticing a pretty flower, perhaps on a roadside. You stop to take a photo of it. You see more, and stop again and again. You venture out far away from the pavement to find more beautiful flowers. You begin to wonder "is that the same flower I photographed a few days ago?" You study the details of the leaf structure in your photos, the arrangement of its reproductive parts and through this research find that it wasn't the same. Now, the bug has bitten. You must travel and find new plants--different ones, rare ones...
Submitted by

dustymaiden

on Thu, 03/28/2013 - 00:00
I was only home from my solo trip for two days when it was time to return to the desert. I love it when that happens. This trip was planned well in advance with friends to our property and to hear a favorite musician at a local venue. Of course I wanted to make the most of it as far as flower-finding and photo-taking, so I asked my friends if they wanted to accompany me for the outing, and they agreed. The more, the merrier.
We left Monday morning, and my goal was to see the Desert Five-Spot. Somehow, on all of my travels I had never seen this flower, and I decided: why not now? It was a gamble, though. All of my hopes for a great wildflower bloom in 2013 had not panned out. Our late-winter trip held some promise with a decent amount of greenery everywhere we went. But the desert southwest needed more rain and it hadn't materialized in the springtime. If the spring rains don't come, the flower bloom is thwarted. True, it was better than last year which was VERY dry--literally almost no flowers. This spring it has varied from place to place, some areas better than others. Overall it has been a pretty marginal year. But that wasn't stopping me.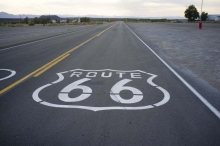 After a couple days of funtime at our land, it was time to hit the road. The day we left, we stopped in the charming little town of Joshua Tree and got sidetracked for a few hours by excellent food and intriguing shops. By the time we got to 29 Palms and Amboy Rd., it was mid-afternoon. We stopped near the broken-down homestead cabins in Wonder Valley in the name of art photography. As we drove up the hill we saw a profusion of Desert Dandelion and Fremont Pincushion. I veered off the road to check it out. As we came down the other side of the hill toward Amboy Crater we found Arizona Lupine, Brown-Eyed Primrose, Notch-Leaved Scorpionweed, and more Fremont Pincushion. It was interesting to see different species on the north-facing side of the mountain. Most of it was along the roadside, being nourished by runoff.
We arrived in Amboy and had to make a stop at Roy's Motel & Cafe and to explore the tiny town. I had been there many times before, but was excited to discover that the gas station and store were now open. The cafe was not serving food but was informed they are working on getting it back up and running. How exciting! It is an amazing piece of history that hasn't changed much since the 1940's and an icon of Route 66 in the California desert. I can only describe it as 'blissful nowheresville'.  Perfect.
We turned north on Kelbaker Rd. which would take me, once again, through the Mojave National Preserve. Last time it was very chilly here but the warm spell was sure to have brought out some flowers... The train depot was closed in Kelso and it was almost sunset, so we drove about a mile past it up onto a rise so that we could better see the coming sunset. I found a pull-out at a wash and saw greenery. Yes! It turned out there were several patches of Goodding's Verbena. I struggled with my camera and only got a marginal photo since the sunlight was already gone below my shoulders. Coyote Melon with gourds attached from the previous year were scattered about, as were Wallace's Woolly Daisy, a true Mojave species. A Prickly Poppy stem waved in the wind, buds bobbing around, but no flowers. There were other green sprouts that had no flowers--still needed more time, apparently.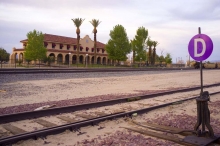 It was our last stop to enjoy the desolate beauty--it would be dark for the rest of the evening's drive. We watched the sun set just as a train was pulling into Kelso.
Watching the train I felt the urge to travel down the lonely track off the beaten path into the wide open places. I love trains. They stir up so many emotions for me. It's a kind of bittersweet thing, wishing that I could transport myself back in time to my childhood in the 60s and 70s or even to the 30s or 40s, long before I was born. It seems like life was simpler then and that people were happier. We were more free to pursue our dreams, adventuring would lead to things never seen, there was room for everybody and we cared about each other in a way that we don't now.  I enjoy thinking about those days, watching old movies and reading books from back then, but it is equally sad, knowing that you can't really go back...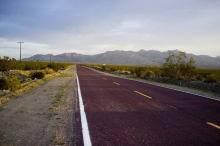 We got back in the car at dusk. We had several hours yet until we reached our next destination: Beatty, NV.
Pages