Wildflower Travelogue
It starts by noticing a pretty flower, perhaps on a roadside. You stop to take a photo of it. You see more, and stop again and again. You venture out far away from the pavement to find more beautiful flowers. You begin to wonder "is that the same flower I photographed a few days ago?" You study the details of the leaf structure in your photos, the arrangement of its reproductive parts and through this research find that it wasn't the same. Now, the bug has bitten. You must travel and find new plants--different ones, rare ones...
Submitted by

dustymaiden

on Tue, 03/19/2013 - 08:26
On Saturday morning I headed west on the Superstition Freeway, and then south on Hwy 247. I was headed for the Mexican border, or more specifically Organ Pipe Cactus National Monument which is positioned on the southern edge of Arizona. I passed through Maricopa and sparsely populated areas, it was agricultural rather than desert, which was nice but flowers were nonexistent.
Organ Pipe had been a dream for years, the only place in the USA that you can see these cacti. The area has always intrigued me in the same way that Mexico seems mysterious and exotic, with thoughts of the old west thrown in for historical interest. And maybe I would see new flowers--yes, that's an ever-present wish. I was a bit tentative being solo. The park was previously used heavily by drug traffickers and 'coyotes' ferrying people across the border. The new visitor center is named for a park ranger who was killed by drug runners in 2002. It can be a bit dicey, but the Border Patrol now has a big presence in the area. Checkpoints are common. Despite being alone, timing and circumstances were pushing me to go.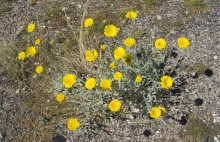 I arrived at the interchange for Interstate 8 and headed west toward Gila Bend. The highway travels through some of the most beautiful desert country I have ever seen. The area, the Sonoran Desert National Monument, was proclaimed by President Clinton in January 2001. The vegetation was very green and thick with Saguaros, Palo Verde trees, smaller cacti and other shrubs. Yellow Desert Marigold and Arizona Lupine were everywhere. It was so pretty and I yearned to pull off and take a hike around. But I wanted to spend the daytime hours at Organ Pipe, naturally, so I aimed toward Highway 85, the road to Ajo, AZ and southward.
I stopped for gas in Gila Bend at a station that had all sorts of colorful pottery and animals made of tin. Just like being in Mexico, except it wasn't a Pemex. Highway 85 travels through the Goldwater Air Force Range and was lined with bunches of Desert Marigold. Not sure what they would think if I stopped at a military base. I finally reached Ajo. The town is made up of mostly low-slung modest homes built during its heyday as a copper mining community. I quite liked the quaint, unspoiled southwestern feel of it.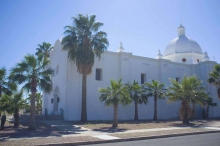 The historic Mission-style buildings in the town center around the plaza are lovely. Definitely stopping here on the way back out! But, ugh, the abandoned copper mine at the southern end of town was as ugly as sin. I wonder why the mining company wasn't held responsible for restoring the land to something resembling the native landscape? It's a total blight on the community, cultural heritage or not. I left Ajo and continued on through Why, AZ, which was unremarkable from the road. Eventually, I saw the Border Patrol checkpoint on the other side of the highway, and within a mile or so arrived at the sign for the park. Yes! A few Organ Pipe cacti were scattered about near the entrance but not many. I was excited to explore, so I drove on.
There are no other paved roads through the park and this one is mostly straight 2-lane road with a good amount of traffic, at least this time of year. I remembered that many people use this route on their way to Puerto Penasco (Rocky Point) on the Sea of Cortez in Mexico, about 60 miles south of the border. I didn't see a swath of flowers in any one area as I drove, just a few patches here and there along the road. I wanted to get to the Visitor Center, which is only 2 miles from Lukeville, at the border, and ask if they knew any areas of the park with a variety of flowers.
As it turned out, they didn't really know of any particular places but just suggested the Ajo Mountain Loop. I considered it.  I discovered that it is a 21 mile-long dirt road and one-way so if you commit, you have to continue to the end. The ranger suggested taking two hours to complete the drive. I wavered. I didn't want to spend that much time on one road. It had taken hours to get there and my time was rather short. He suggested some shorter routes, which sounded very do-able and I made mention that I was by myself and was concerned about safety, and further lamented the fact that both sides of the border are troubled by violent drug smugglers. He looked me squarely in the eye and said "it wouldn't be a problem if people didn't use drugs." I couldn't disagree with him. I thanked him for his help and left. I drove through the campground just to scope it out. There was a beautiful hillside above the road with many specimens of organ pipe cactus, so I hopped out and took a photo. I was very curious to know if Lukeville had any restaurants or stores as I was hungry, but I suspected that it didn't so I just headed north.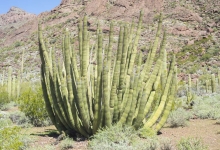 I stopped at a dip in the highway which contained a small wash that was overgrown. I thought some flowers might be hiding there in the relative shelter and moisture of this wash. I was right, to an extent. They were mostly confined to the roadside, but there was a good variety: Apricot Mallow, Pink Penstemon, Sandbells, Rattlesnake Weed, Desert Plantain, Mexican Poppies and Checker Fiddleneck. A few were unfamiliar and the photos do not represent the flower well so they will remain a mystery until I see them again.
I felt I couldn't leave the park without getting off the pavement in hopes that the backcountry might reveal something that the pavement had not. One of the roads that the ranger mentioned was Alamo Canyon Rd. This road has a 4-site campground and if you hike a few miles, an old ranch house, corral and well. The wash that follows the dirt road deepens as you get closer to the end and brings you up close to the mountains. Two of the four camp sites were occupied but no one was around. I took a short walk, finding many attractive camera angles and was able to get some beautiful shots of the mountains, saguaros and organ pipe cacti. It was still very hot. No flowers made an appearance. Although I would have loved to see the ranch at the end of the trail, I thought better of it. I had a long drive ahead of me as well.
Back on the highway, I eventually came to the Border Patrol checkpoint. As I was waiting in line, I saw some flowers off to the side. I almost put the car in park to go have a look and realized that this might be interpreted as suspect in some way. I stayed put until I got to one of the agents. After answering the citizenship inquiry, I told him about the flowers and asked if I could go check them out. He hesitated and then replied "it would be better if you didn't." I was disappointed but didn't argue with him.
Heading north again, as I was approaching the copper mine in Ajo, I saw a road off to the left. This was the access to the infamous El Camino del Diablo, the old Devil's Highway which has fascinated me for years. How I wished I could drive that road! A Spanish missionary trail originally covering 250 miles from the Sonoran State in Mexico to Yuma, AZ, the current distance is about 150 miles. Illegal border crossings are common. I know that drug smugglers use this area too, but I don't know how regularly, but at this point it didn't matter because I didn't have the time, proper equipment, or group of experienced people required to do it safely. Also in the area is the Cabeza Prieta National Wildlife Refuge, all of it beautiful desolate desert. For now, both would remain a dream.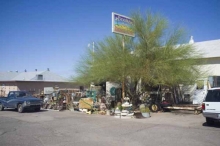 Back in Ajo, I stopped in the quaint plaza where the Tucson, Cornelia & Gila Bend Railroad Company sign hung. There were a few shops and restaurants there but not much seemed to be open, and very few people were around. There was a gorgeous white domed church on a prominent corner across from the plaza that shouted for a photo. I complied. On the next block, a shop appeared with a bunch of junk out front. An old guy was sitting in a chair. I pulled into the parking lot and got out to look around. There was all sorts of old metal bedframes and wagon wheels--all manner of battered and run down items. A white-haired man was slowly crossing the street and finally arrival at the store. He was clearly a good friend of the shopkeeper. I started a conversation about the town, how I loved the feel of it. The old man said that he'd lived in the town for 60 years. I said "I'll bet things have really changed since then!" He agreed. I wish more old folks would write a book about the changes they have witnessed in their lifetime. It would keep all of us grounded.
I stopped at a Dairy Queen, a distant memory from my childhood. I needed something... As I walked in I thought, I shouldn't do it but I might just have ice cream instead of food, they won't have anything for me to eat. I walked up to the counter and before I said anything they said "Sorry, we don't have ANY ice cream." I said "like, none at ALL? No ice cream bars or slushies or anything?" "No, I'm sorry." I decided on a grilled cheese, which took about 20 minutes to make. Not quick. And it was horrible. Ugh. Time for me to leave Ajo...
I drove a few miles to where a low bridge crossed a small wash. I saw flowers in the wash so I pulled off in a sandy area. I had to climb down a steep embankment and a ton of sand fell into my shoes. I didn't care. The colorful flash that I saw as I drove by was a big bunch of Mexican poppies, beautiful but nothing out of the ordinary. Hanging over the bridge was some sort of vine with tiny white, very fragrant flowers. It spread out about 6 ft. wide and all the way to the ground. Below that was a big bunch of Sandbells, a deeper purple than the ones I saw earlier.
Back on Interstate 8, I decided to follow the Colorado River on the Arizona side heading north this time. The Catman and I had followed it on the California side in February. Might as well see something different. After a while I realized I was going to pass the Castle Dome Mountains that we had seen from Quartzsite. I came upon a road that lead into the Kofa National Wildlife Refuge, of which the Castle Dome Mtns are a part. It was getting late but I had one last chance before dark to look for blooms. I drove a few miles and got to the sign with all the rules. It has similar rules to Quartzsite for traveling and camping, except a bit more restricted because of the wilderness areas. Must return with friends sometime.
The afternoon sun turned the craggy mountains a deep red, one of the magical things being the colors of Arizona soil. Not much blooming, but there were several people set up for camping and the scene was very peaceful.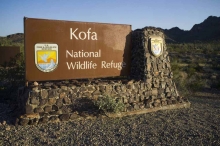 It had been a long day and I was ready for a hotel and planned to get something close to Palm Springs. I arrived in Quartzsite, fueled up and hit the gas. When I stopped for a short break, I made calls to find a hotel but it turned out the entire Coachella Valley was booked for a tennis tournament, a convention and a few other events I can't recall. Rather than sleep in my car in some random place, I just drove another 30 miles to my place in the high desert. Over 600 miles and countless stops since Apache Junction that morning, I crashed. I woke up the next day and drove 500 more to northern CA. Home at last and no more driving. For now.
Pages