Wildflower Travelogue
It starts by noticing a pretty flower, perhaps on a roadside. You stop to take a photo of it. You see more, and stop again and again. You venture out far away from the pavement to find more beautiful flowers. You begin to wonder "is that the same flower I photographed a few days ago?" You study the details of the leaf structure in your photos, the arrangement of its reproductive parts and through this research find that it wasn't the same. Now, the bug has bitten. You must travel and find new plants--different ones, rare ones...
Submitted by

dustymaiden

on Sun, 03/17/2013 - 15:21
I woke up early on Friday and arrived in Quartzsite, AZ by 8:30 a.m. I chose a road near the area where we camped a few weeks ago, but never explored. Bunches of flowers bloomed along the roadside. I stopped where I saw a big patch of Apricot Mallow, their beautiful orange globes reflecting the morning light. There was also Arizona Lupine, Notch-Leaved Scorpionweed, Desert Sunflowers, Desert Chicory, Copper Globemallow and Brittlebush. A few splashes of yellow Wallflower hid amongst some shrubs along with Checker Fiddleneck.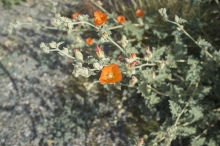 Since there were so many flowers here, I turned off onto BLM dirt and drove a few miles, but didn't see anything. I turned around and went back to the pavement. My ultimate destination was the east side of Phoenix, and that would take a few more hours.
Several years ago, the Catman and I traveled the Apache Trail past the Superstition Mountains out to Theodore Roosevelt Lake. It was an incredibly stunning and rugged area and I wanted to see what might be happening around the Superstitions, at least. I wasn't going to go as far as Roosevelt Lake.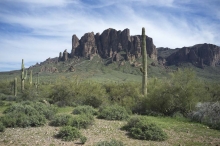 I arrived in Apache Junction around noon and drove a few miles to Lost Dutchman State Park. The park has a spectacular view and hiking trails into the Supersition Mtns. I decided to grab one of the last two available campsites so I would not have to think about where to camp for the rest of the day. It was a bit of a nightmare--mobbed with parents and kids and dogs--too much chaos for my liking. But I was solo and all I wanted was a reliable place to sleep.
Prior to leaving I read that there were flowers along the trails leading from the park up into the wilderness area. I headed there first. The Siphon Draw trail was busy and it was hot--in the low 90's which was significantly warmer than is typical for this time of year. I moved quickly uphill to see as much as possible in a short amount of time. I asked some hikers who were on the way back down if they had seen flowers. "Oh yeah, just ahead about 5 minutes." Another lady said "Yes, they are mostly buttercups." I didn't know what buttercups were but forged on. I saw a few Desert Marigolds and then I discovered what the lady meant by 'buttercups'--poppies! There was a lovely stand of Mexican Gold Poppies as I arrived at one of the flatter portions of the trail. The color really stood out against the dark red mountains, green saguaros and leafy shrubs of the Arizona desert. So pretty and cheerful! Farther along I found desert Hyacinth and Red Maids, both the pink/red version and the white ones. The trail turned just before the steep incline up the mountain and Chuparosa stretched a swath of red all along the way. Hummingbird heaven!
I was hot and had finished the water in my bottle. I decided to turn around knowing that I would not make it all the way up into the mountains without water. I had been moving so fast that I didn't realize that I was overheated. I slowed my pace on the way downhill and finally reached the trailhead. Thankfully there was a water spigot at the trail sign. I felt as if I was going to faint. I poured water over my head and stood in the shade of a Palo Verde, my heart pounding. Heat exhaustion is scary and I should know better than to get myself into that situation. I resolved to not let it happen again.
I got into my car (and air conditioning!) and decided to drive toward Boyce Thompson Arboretum State Park about 20 miles away near Superior. I'd heard great things about it and hoped for some native wildflower displays. I had also read that there were flowers along the way--music to my ears. It wasn't long before I saw something that made my head turn--Rosy Apricot Mallow! This color morph is common in Arizona, and I swerved to the side of the road to get some photos. As the cars rushed along the highway, I realized how a love for something knows no bounds, no fear.
A bit farther along the road, one of the flowers I was hoping to see came into view--Pink Penstemon. I pulled onto a gated dirt road and stopped. Beyond the gate there was a field of Chain-Fruit Cholla. To my delight, Fairy Duster was growing right nearby that I didn't notice from the highway. It is so airy and delicate that it didn't really stand out and not really surprising that I didn't see it. I do have to watch the road--some--after all. I happily snapped a bunch of photos and was supercharged to get to the Arboretum. It was not far away.
I pulled into the parking lot and got inside. It was late so I took a quick walk around most of the paths, but it seemed most of the plants were not local but from Australia and other places, probably wonderful for general desert information but definitely no flowers there. It was rather disappointing but I realized I wouldn't have seen the ones along the way if I hadn't come. I left quickly and headed back toward Apache Junction. Along the way I again noticed a hillside covered in yellow flowers that I saw earlier. My heart tugged. There wasn't much time before sunset and it appeared difficult to reach. I decided to skip it, so I fueled up the car, bought firewood and drove to the campground.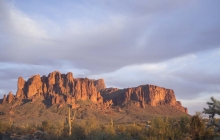 It was a stellar sunset, amazing vermillion-red-purple coloring the Superstition mountains. My next door neighbor was blessedly quiet, and all the exuberant noise elsewhere in the park had ceased. By the campfire I sipped a beer and wondered about the Lost Dutchman gold mine alleged to be in the hills beyond. Did it really exist? And as always, I marveled at the plucky grit that drove pioneering explorers in search of a get-rich-quick piece of rock, despite the scarcity of water and the chance of encountering Indians. I don't blame the Indians, but I value my life and am sure the pioneers did too. Maybe they didn't think about things too much, they just acted.
I curled up in my warm sleeping bag. My mind was whirling with thoughts of the beauty I had seen that day, and what might come tomorrow. It was hard to sleep from the excitement of it all.
Pages