Wildflower Travelogue
It starts by noticing a pretty flower, perhaps on a roadside. You stop to take a photo of it. You see more, and stop again and again. You venture out far away from the pavement to find more beautiful flowers. You begin to wonder "is that the same flower I photographed a few days ago?" You study the details of the leaf structure in your photos, the arrangement of its reproductive parts and through this research find that it wasn't the same. Now, the bug has bitten. You must travel and find new plants--different ones, rare ones...
Submitted by

dustymaiden

on Fri, 03/15/2013 - 00:00
It was four precious springtime weeks since I was last on a wildflower hunt. Unfortunately, rain only fell lightly on one of those days and I knew that it would not bode well for spectacular blooming, but hey--I love the desert, flowers or not. Besides, for me, one of the most amazing occurrences is to find a single tiny flower cowering under a rock or amidst some gravel in the burning sun. It makes me realize that nature has a way of persisting in the most demanding environments. Fortunately, the temperatures in the springtime are generally very mild and even if the plants have no rain, what little ground moisture is there will not evaporate so quickly as long as it is not too hot.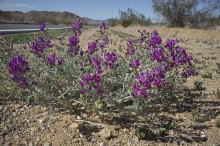 Before I left, I checked the weather forecast for the week. I was both overjoyed and dismayed to find out that the weather was going to be exceptionally warm--in the mid 70's in the high desert and low-90's in the low desert, and my plans included both elevations. I was happy because I like warm weather, but sad because I knew it would likely be a bit too much for the delicate annuals, which in some years never make an appearance because the rain and temperatures haven't been right. The shrubs and cacti would just bloom earlier, most likely.
The day before I arrived, I drove to Barstow before tiring out and deciding to get a hotel. I awoke early and drove two hours arrived at my place by 9 am because I needed to be at my land to meet our friend who was going to do some construction work.  Near Lucerne Valley I spotted some Yellow Evening Primrose and Freckled Milkvetch. I was thrilled to see flowers first thing in the morning!
I picked up a friend from the airport later that morning. She was visiting for a few days and I hoped we would get out for a few short jaunts around Joshua Tree or elsewhere to get a renewed look at what was happening. But conversation took precedence and we ended up just staying local and being rather lazy. It was fine, resting is good for the soul.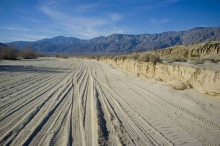 On my property, there were some curling leaves of Desert Mariposa peeking out of the gravel, small bits of fuzzy Wishbone Bush leaves, a few Bajada Lupine and fresh gray-green wrinkly leaves at the base most of the Apricot Mallow. Would the heat kill them? Hmmm... Down the road we saw a patch of red which was surely Desert Paintbrush, one of the earliest bloomers in my neck of the desert. In essence, not much going on at 4,500 ft. but maybe there would be more elsewhere.
After a few days, I dropped my friend at the airport at about noon on Thursday and started driving east on Interstate 10, trying to decide if I should just head straight for Arizona or try to race down to Anza-Borrego Desert State Park for a quick look. I opted for the latter.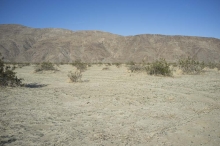 On Hwy. S-22 there was a number of flowers blooming along the roadside. Rather than stop right away, I headed for Henderson Canyon Rd. in Borrego Springs. When I arrived, it was totally brown--not a single flower blooming in one of the most notorious places for flowers that I know. In good years the flowers in this basin are outstanding--beyond belief even. I knew that the rainfall this year wasn't sufficient to be spectacular but there were absolutely no flowers at all. Anza-Borrego is a huge park and there were many other places to go, but I really wanted to go places that I do not get to very often, and that is central and southern Arizona and eastward.
I turned around and headed east, stopping a few times along the roadsides. There were some lovely specimens of Freckled Milkvetch, and a few Desert Sand Verbena. Plenty of blooming Brittlebush and Arizona Lupine.
At a pullout near the Arroyo Salado campground I found more Arizona Lupine, Thick-Leaved Ground-Cherry, Brown-Eyed Primrose, Forget-Me-Not and Notch-Leaved Scorpionweed. Nothing was blooming profusely but at least a decent variety of species were represented.  
I got back on the Salton Freeway and headed north toward Box Canyon in the Mecca Hills at the north end of the Salton Sea. I have seen some excellent blooms there in wet years and was hopeful that there would be something, but I was racing the waning daylight. I made it there just in time to catch the last 15 or 20 minutes of sun on the hills that were situated just right. I snapped as many photos as I could of Scorpionweed, Lupine and Forget-Me-Not and jumped back in the car, drove a few miles to the southern entrance to Joshua Tree, which was up a bit higher and not obscured by hills to the west.
In Joshua Tree, I had about 3 minutes to scan the place at one of the pullouts before the sun was gone. Of course there was some light after the sun set but it made photography more challenging. I found Chuparosa, Golden Evening Primrose, Chia, and Bladderpod. Not bad findings for a 6 hour stretch in 3 different places!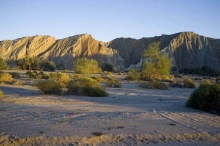 After all that racing around, I just wanted to relax for a few. The nice thing about traveling by yourself is the ability to do whatever you want when you want. I found a little dirt road nearby where people were camping--BLM apparently. This spot has a nice wide-open view and you can watch the cars roll by on Interstate 10 and wonder where they are going, with easy access to get back on the highway as well. I got into the cooler and made myself a big salad and munched until it got dark. At dusk, I looked for the comet that was said to be visible on the horizon if you have binoculars--I did--but I never found it.
It felt good to stand up for a while. That is the hard part of driving solo--no rest for the weary. Eventually I jumped back into the car and drove a few more hours to Blythe to stay for the night. I wanted to take a look around Quartzsite the next morning and see if any of that greenery from 3 weeks ago had popped out.
Pages